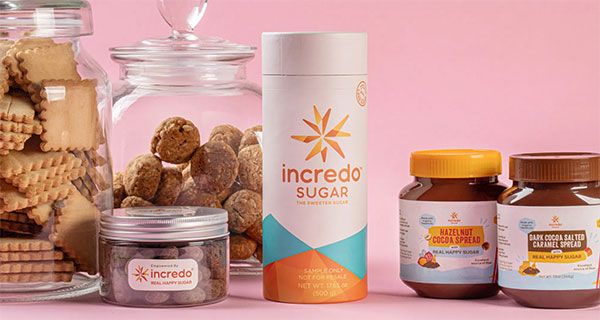 21 Apr 21

Sugar reduction tech launches in consumer spreads

Israeli sugar-tech company, DouxMatok, has released its first direct-to-consumer product featuring its Incredo Sugar, a sugar-based solution that enables 30 to 50 percent sugar reduction. 

The US launch arrives in the form of two limited-edition Incredo Spreads that have nearly 50 percent less total added sugar than other leading products while also offering nutritional fibres.

Lorraine Niba, vice president of sales North America, tells FoodIngredientsFirst that the launch aims to show partners Incredo's ability to scale. 

"Additionally, North America is a priority market for Incredo Sugar. With the global nature of the food industry and our customers, however, we'll soon be expanding our team in Europe and other regions in order to explore opportunities for Incredo Sugar in the market. We also have existing partnerships in Israel," she continues.

DouxMatok's long-term goal remains focusing on its B2B customers and partners to provide Incredo Sugar as the main pillar of a full solution that will include a mix of nutritional fibres and proteins.
A healthier spread
Consumers can now purchase DouxMatok's two-jar bundle of Hazelnut Cocoa and Dark Cocoa Salted Caramel spreads online. 
In addition to using less sugar, two tablespoons of Incredo Spreads boast 30 percent of the daily recommended fibre intake. They are also made with organic hazelnuts and free from gluten and artificial flavours, colours and preservatives. 
The DouxMatok team found spreads to be popular in both internal and external tasting panels of various foods featuring Incredo Sugar.
"While we are confident in the other use cases of Incredo Sugar, the spreads certainly provided a great canvas for our ingredient and better-for-you solution. The functionality of Incredo is also greatly suited to spreads – easy to add, stable to processing and provides a smooth, great-tasting product," explains Niba.
Moving away from palm oil
The spreads also replace palm oil with sunflower oil. Jim Schulok, vice president of applicants, explains that sunflower oil contains a quarter of the amount of saturated fat as palm oil, helping to create a more holistic wellness solution.
"From an environmental lens, replacing palm oil with sunflower oil makes our spreads more sustainable as we don't participate in the environmental devastation associated with palm oil extraction, such as deforestation," he adds.
While palm oil continues to be a controversial ingredient, Golden Agri-Resources recently stepped up efforts to "dispel misperceptions" while raising awareness about the health benefits of the ingredient.
How does it work?
Incredo Sugaris based on a sugar reduction solution made from real cane sugar. By improving the efficiency of sugar delivery to the sweet taste receptors, it enhances the perception of sweetness, enabling substantial sugar reduction without compromising taste, mouthfeel or texture.
Unlike other sugar alternatives, Incredo Sugar uses actual sugar — just less of it. It turns out that sugar on its own doesn't do a very good job of dispersing flavour on your tongue (which is why so much is added). To make it more efficient, DouxMatok attaches sugar to silica, which makes it diffuse more efficiently on your tongue. The result is that you can get the same amount of sweetness in a product using 40 percent less sugar.
It is also suitable for applications including cakes, snacks, cookies, chocolate, candy, protein bars and baked goods.
Schulok points out that many other solutions on the market struggle with maintaining sweetness while avoiding the aftertastes often associated with bulking solutions.
"We're confident that we've avoided both of those issues. With the sugar that is removed, we now have an opportunity to add back better-for-you ingredients such as fibres and proteins, which help to create a wellness solution," he details. 
DouxMatok argues the only way to meet the challenge of sugar reduction is by maintaining the joys of sugar.
"Consumers, in general, have become accustomed to the tastes and sweetness associated with real sugar. For most people, the sweet taste of sugar is happiness," explains Schulok.
He argues that global research consistently indicates that taste is the first consideration when consumers make their choices, and removing sugar altogether from foods significantly changes the taste.
"We believe that sugar reduction is only going to be widely adopted if the taste is delicious and the nutritional profile of products is greatly improved. Therefore, sugar reduction is never going to be just an ingredient; it's going to be a system or a full solution," Schulok concludes.
Source: FoodIngredientsFirst.com