28 Oct 20

Nestlé's Sensational Vuna faux tuna

Nestlé recently made its first move into plant-based seafood with Sensational Vuna – a six-ingredient vegan alternative to tuna with a flaky/shredded texture.

Developed over nine months in sites across Germany, Switzerland and the US; Vuna is designed for salads, pizza and sandwiches and was created using the patented wet extrusion technology that Nestlé is using across its expanding plant-based portfolio.

The six ingredients are water, pea protein, wheat gluten, rapeseed oil, salt and a natural flavour blend.

Said to be "quite comparable" to its fish counterpart, Vuna contains all the essential amino acids and has no artificial colourings or preservatives. Per 100g, it contains 266 calories, 23.4g protein and 18.2g fat (2.4g saturated).

Nestlé will launch Sensational Vuna under its Garden Gourmet brand in Switzerland to begin with. Other seafood alternatives, including further plant-based fish and shellfish, are said to be already under development.

The launch will feature both the chilled product, which is available in a glass jar, as well as plant-based tuna sandwiches in select stores.
Why is this interesting?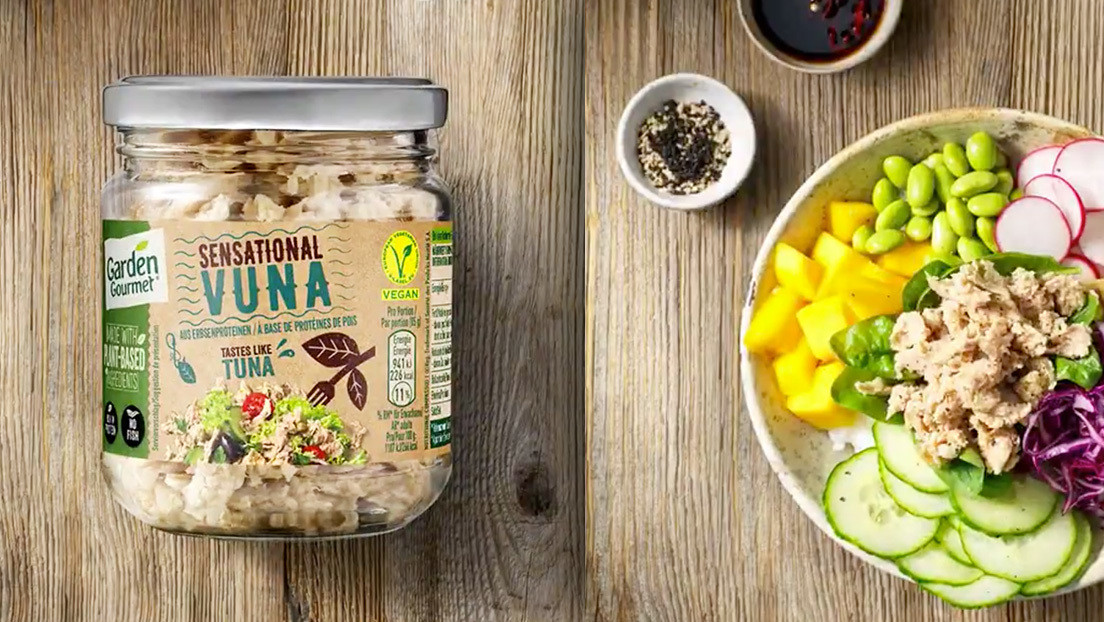 Over the past few years, in line with demand, plant-based meat alternatives have moved from restaurant experimentations to mainstream brands large and small, with meat such as chicken, beef and pork now being regularly mimicked across retail and foodservice.
Global interest is booming, with recent research from the FAIRR Investor Network revealing that over £850m of venture investment has flowed into alternative proteins in the first half of 2020 – more than double last year's total investment of £412m.
Now, with vegan bacon, chicken and 'bleeding' burgers having successfully entered into the mainstream, innovative strides are being made in the fledgling plant-based fish market.
Swedish start-up Hooked, for example, is developing what it claims is the world's first plant-based shredded salmon product, while US company Good Catch introduced Thai style plant-based 'fish' cakes, New England style plant-based 'crab' cakes and classic plant-based 'fish' burgers into its new frozen portfolio in July.
With plant-based fish still in its infancy compared to plant-based meat, there is significant opportunity for start-ups and, indeed, established brands to make an early mark on proceedings.
And Nestlé hasn't waited long to join the party, with The Cream's consultant R&D chef Ben Kalb-Peatfield saying that Vuna – and plant-based fish in general – seems right on the money.
"Vuna is an exciting new launch," he says. "I think there are two positive outcomes from plant-based fish generally.
"The first is that it will create more diversity in the plant-based market, therefore attracting more consumer attention. The second is that, societally speaking, we really need to tackle the issues around overfishing. If there are viable alternatives that reduce the demand on fish stocks, then it gives the various fish populations a chance to recover.
"If we talk about tuna specifically, there may even be positive health outcomes as it could reduce the amount of mercury consumption in people's diets. Yellowfin and albacore tuna are specifically problematic in that they contain high levels of mercury – and yellowfin is one of the more common species caught in the EU.
"So overall, plant-based fish definitely ticks some serious boxes for today's consumer."
Source: www.pure-npd.co.uk